Arbor Heights PTSA Harvest Dance | Baile de la Cosecha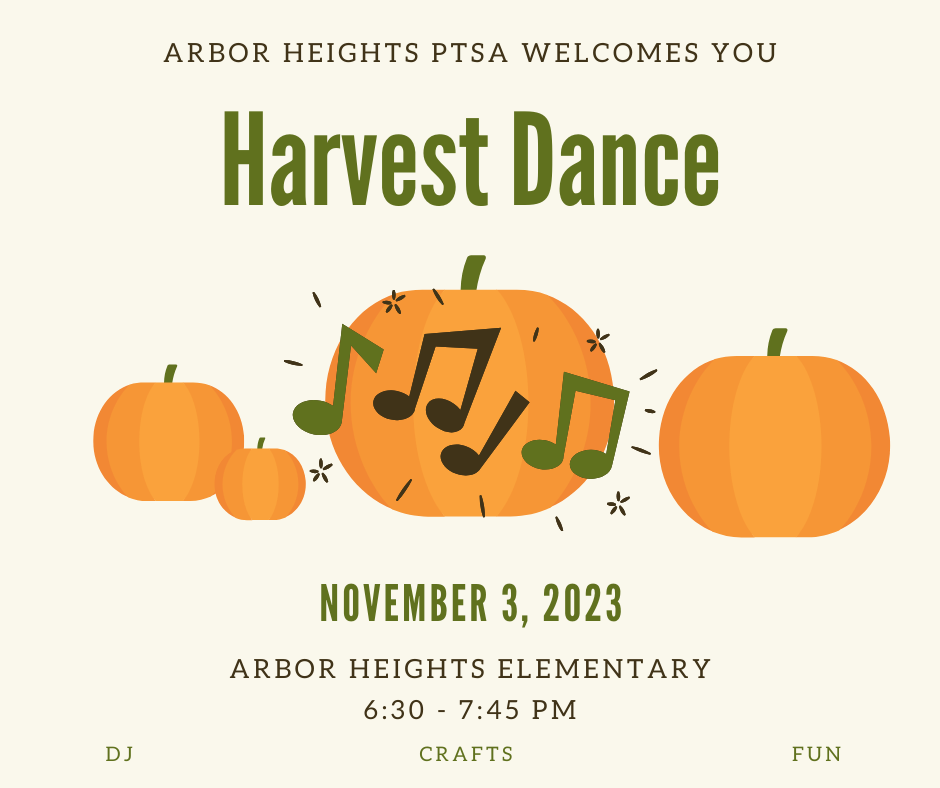 Join us for our annual Harvest Dance on Friday, November 3, 2023, from 6:30-7:45 p.m. in the Arbor Heights Elementary Gym. Come enjoy light refreshments, crafts, and dance the evening away to music from our live DJ. This event is open to all Arbor Heights families and we could use volunteer support to help throw this amazing event.
It is an honor to host these social events for our school but we must be cognizant to do so in a thoughtful and safe manner. Given the success of last year's event, we have made a few modifications to ensure safety of our attendees. To attend this event, we insist on compliance with the following rules:
Please RSVP by October 30, 2023. Everyone will be required to check-in at the event.
Music and dancing will be contained in the gymnasium.
Refreshments will be served in the cafeteria only and tables will be set up to enjoy these snacks. Food and drinks will not be permitted in the gymnasium.
The outside "covered area" outside of the gymnasium will be available for people to get fresh air. No balls, jump ropes, etc will be available.
The playground/playfield will be off limits. It is too dangerous to have children on the playground/playfield during school function.
Even though this is a school function, parents/guardians are ultimately responsible for their children.