Welcome Back BBQ is Friday!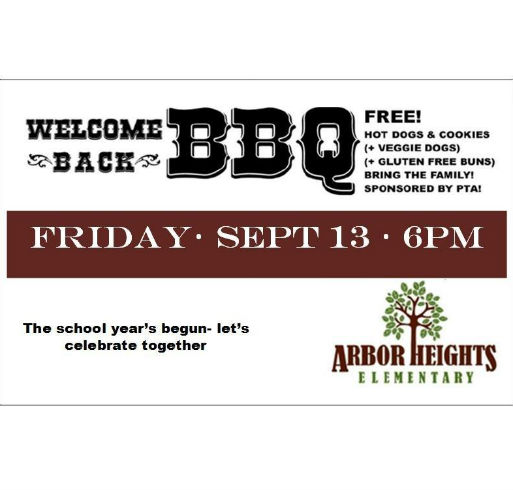 What: Annual Welcome Back BBQ
When: Friday, September 14, 6 to 7:30 p.m.
Where: Arbor Heights Elementary School playground
Who: YOU and many fellow parents, students, faculty, and the Arbor Heights Parent-Teacher Association
While you may have already celebrated the start of the school year privately, we hope you will come kick-off the school year with us Friday night at our annual "Welcome Back BBQ"!
Bring the family to the Arbor Heights playground where you can socialize with other Arbor Heights community members while enjoying FREE hot dogs (including veggie dogs and gluten-free buns) and cookies!
Arbor Heights PTA board members will also be on-hand, not only to prepare and serve food, but to answer questions about how YOU, too, can get involved in our organization and support the mission of Arbor Heights Elementary and its students.
No RSVP is required, but you can join the event on Facebook. Please help us spread word of the event to other Arbor Heights families, as well.
And should you wish to volunteer your efforts at the event, we are still seeking help with grilling hot dogs, serving hot dogs, maintaining the beverage station, and post-event clean-up. Head to Sign-Up Genius to choose your shift!
We look forward to seeing as many of you as possible and celebrating the start of what will be a terrific school year.